The Dementia Caregiver's Little Book

The
all new and updated version
of Karen's book is now available. It has recently been added as an
Alzheimer's/Dementia Resource
Book with the National Institute of Health (NIH)
.
It may be a relatively little book, yet it's big in terms of in-depth information! Ideal for both individuals and professional caregivers, it's available for a limited time for just $11.95 per book, which includes postage and handling.
Here are just a few of the many chapters and topics covered in this very handy guide:
Dementia 101
What is Dementia
Types of Dementia, including Alzheimer's
Diagnosis
The Stigma of Dementia
Medical Information
Personal Health Record (PHR)
Medications
To Admit or Not to Admit to a Home?
"This Little Book of Hope has seen me through the very difficult days of caregiving for my wife. Without this 'Bible' as guidance, my journey would have been much harder."


- Lothar U., Caregiver
Caregiver Advice and Support
Communication Tips
Anticipatory Grief
Caregiver Burnout
The 10 Secrets of Caregiver Success
Support Groups
Legal and Financial Keys for Success
Why You Need Certain Legal Documents
Medicaid and Medicare
Financial Considerations
Guardianship 101
"This is a 'must-have' book for any caregiver or healthcare professional. Karen delivers information with compassion to her caregivers. The Dementia Caregiver's Little Book of Hope is an invaluable resource that speaks to your mind, heart and spirit."


- Kim Linder, Senior Holistic Living, LLC
End of Life

Final Goodbyes
Peace, Comfort, Hope and Endings
Resources and Information
National Veterans Information
Adult Day Care and Respite Care
Long-Term Care
Handy Phone Numbers and Websites
Suggested Reading, Listening and Viewing
Facts and Reflections
Famous Faces of Alzheimer's
Those Four Pesky Emotions
Reflections for the Journey
ISBN: 978-0-98425555-0-4
Registered with the Library of Congress under the Copyright Law
Copyright 2009 Dementia Caregiver Resources, Inc.
First Printing - November 2009
Revised and Updated Edition - May 2013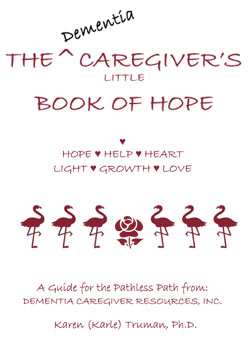 Or, print the form below, then mail or fax it.