The Dementia Caregiver's Little Book

The
all new and updated version
of Karen's book is now available. It has recently been added as an
Alzheimer's/Dementia Resource
Book with the National Institute of Health (NIH)
.
It may be a relatively little book, yet it's big in terms of in-depth information! Ideal for both individuals and professional caregivers, it's available for a limited time for just $11.95 per book, which includes postage and handling.
Here are just a few of the many chapters and topics covered in this very handy guide:
Medical Information
Personal Health Record (PHR)
Medications
To Admit or Not to Admit to a Home?
"This Little Book of Hope has seen me through the very difficult days of caregiving for my wife. Without this 'Bible' as guidance, my journey would have been much harder."


- Lothar U., Caregiver
In this book:
"THE DEMENTIA CAREGIVER'S LITTLE BOOK OF HOPE", Dr. Karen Truman addresses issues important to all caregivers.
How and why to get a proper diagnosis
What legal documents are necessary for you and your Loved One
The best way to obtain Veteran's benefits
Original Medicare vs. "Advantage Plans"
The Top 10 Medicaid Eligibility Mistakes
Effective ways to deal with caregiver emotions like
guilt and sadness, and how to avoid caregiver burn-out
Ways to reduce your risk of developing Alzheimer's
In addition, Dr. Truman provides resources and information for guidance and direction on your caregiving journey.


ISBN: 978-0-98425555-0-4
Registered with the Library of Congress under the Copyright Law
Copyright 2009 Dementia Caregiver Resources, Inc.
First Printing - November 2009
Revised and Updated Edition - May 2013
Revised and updated 3rd Edition - 2016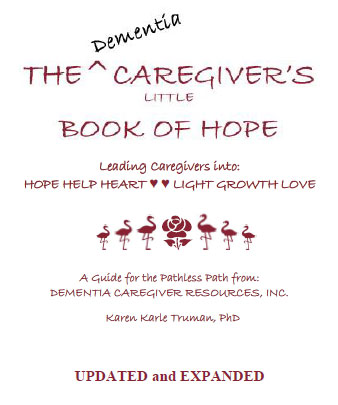 Or, print the form below, then mail or fax it.