Dementia Caregiver Support Groups
Karen (Karle) Truman, PhD conducts a number of Dementia Caregiver Support Groups throughout the Tampa Bay area. Free free to join us to share your experiences and ask questions, with full confidentiality, with other Dementia Caregivers.
Our Support Groups meet in convenient locations all over Pinellas County.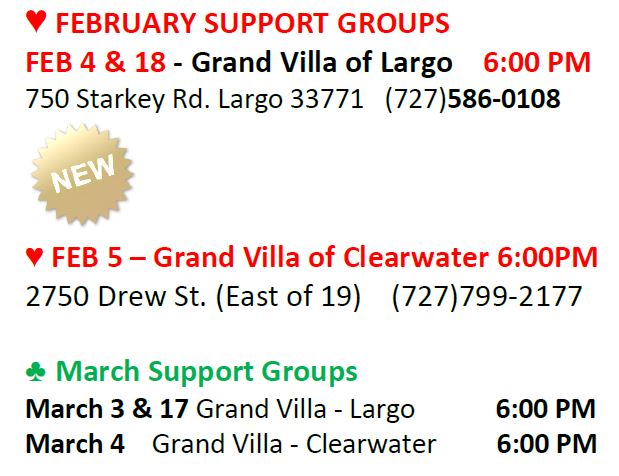 Please join us for lively conversations, education, new friendships, and solutions to your caregiving concerns. Contact us for the latest information.
Facilitators: Karen (Karle) Truman, PhD and Jeff Truman, MS Ed
Authors: "THE DEMENTIA CAREGIVER'S LITTLE BOOK OF HOPE"
CAN YOU MAKE A TAX DEDUCTIBLE DONATION?
Have you attended support groups? Have you received information that changed your life? We empower caregivers to make the hard choices, and find the best resources. We would so appreciate your support!
WE ALWAYS NEED USED INK CARTRIDGES!
Disclaimer:
Sometimes groups get cancelled due to events in the communities or the dates change due to holidays. We make every effort to keep these lists current and accurate.

Donate Now to Enhance the Dementia Caregiving Journey!